As we head towards the end of 2017 there's no let up for The Voodoo Sheiks.  We have a new Drummer in the shape of Spencer Blackledge, check out his Biog'. We'd like to thank John for his commitment and contribution over the last 7 years and wish him all the best in his future endeavours.
Subsequently a new photo shoot was organised and we headed up to Ascot, Berkshire to have some suitable moody, atmospheric, urban looking pics done at a secret location.
David Sell was tasked with making us look good and considering what he had to work with he did a great job!
We have booked Platform Studio for two sessions in Feb and March 2018 to record our third album, due for release late March with a launch scheduled for May 4th at The Surrey Blues Club, Hersham.  Once again we are putting our trust in Damon Sawyer to record, engineer & produce our next offering!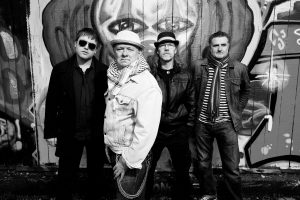 Before 2017 finishes we'll be playing a few gigs including Bedford  Esquires, Platform Tavern in Southampton, Scratchers at The Three Lions in Godalming, a return to The Tuesday Night Music Club in Coulsdon for a double header with our good friends Sugarman Sam & The Voodoo Men and The Golden Eagle in Southsea.
We've also bagged a terrific support slot at The Boom Boom Club, Sutton on Dec 2nd to the great Tommy Castro & The Painkillers. Thank you to Pete Feenstra for that one!
Heading in to 2018 there are some great gigs already booked in with more to add as we speak!
For full details of all gigs go to www.voodoo-sheiks.com 
Hears to a crackin' 2018, keep it live! @thesheiksband